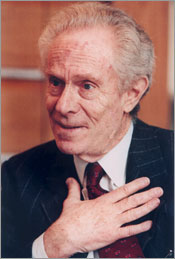 In December 1995, Boston businessman Aaron Feuer­stein had just returned home from his seventieth birthday party, when a phone call informed him that his Malden Mills textile factory in Lawrence, Massachusetts, burned down. Twenty-six employees had been injured, some seriously.
Three thousand people worked at Malden Mills. When the employ­ees saw the devastation wrought by the fire, they assumed, as one worker put it, "The fire's out of control. Our jobs are gone."
The fire was indeed out of control, but Feuerstein was not. An observant Jew who studies Talmud every day, Feuerstein recalled how his father would quote the Talmudic aphorism "In a place where there is no man, be a man" (Ethics of the Fathers 2:5). In the immediate aftermath of the fire, he met with one thousand employ­ees and told them, "When all the textile mills in Lawrence ran out to get cheaper labor down south, we stuck. We're going to stay and rebuild."
Two days later, wages were due. "Pay everyone in full," Feuerstein ordered. "And on time." Along with the payroll checks, Feuerstein included a $275 bonus for the New Year season, and a note: "Do not despair. God bless each of you."
The following day, Feuerstein convened a meeting of his employ­ees and announced, "For the next thirty days, it might be longer, all employees will be paid full salaries." Thirty days became 90 as he arranged for temporary facilities. The total cost of supporting his people after the fire came to $25 million.
Later that day, Feuerstein, himself a leading philanthropic supporter of Torah-inspired causes and various humanitarian projects, went on his annual pre-holiday season route around Lawrence, disbursing $80,000 to such organizations as the Salvation Army, Neighbors in Need, and the Bread and Roses Soup Kitchen.
Did either American or Jewish law require Feuerstein to act as he did? No. That is why his generous actions received national acclaim, and were the subject of numerous articles in magazines and newspapers. (See the detailed story in "One Boss in a Million," Reader's Digest, October 1996, 44-99)
Defining faith for others
In addition to feeling compassion for his employees and want­ing to rebuild his business, Feuerstein exemplified the most exalted Jewish value -- sanctifying G-d's name, or in Hebrew, "Kiddush Hashem." The Talmud tells a story that illustrates the meaning of this term. The sage Rabbi Shimon ben Shatach found a precious stone of great value hanging around the neck of a donkey he had bought from a non-Jew. Refusing to yield to the requests of his disciples who urged him to keep the treasure Providence had sent him, he returned the stone, saying, 'I bought a donkey, not a precious stone.' The Arab witness to the Sage's integrity thereupon exclaimed: 'Blessed is the G-d of Simeon ben Shatach.'
G-d's name becomes sanctified when those who claim to have a relationship with Him act in such a manner that makes it evident how faith transforms a life. Simeon ben Shatach would not have endangered his reputation nor violated the national law if he had decided to keep the stone. In returning the stone Rabbi Simeon moved a man to say: "If this behavior is the child of faith, then faith is worth having."
Emphasizing the degree to which people's attitude toward G-d are affected by the actions of religious people, the Talmud comments:
"'And you shall love the Lord your G-d' (Deuteronomy 6:5); this means that you should cause G-d to be loved through your actions. Thus, if a person studies Bible and Mishnah . . . and is honest in his business dealings, and speaks gently to others, what do people say about him? 'Happy is the father who taught him Torah. Happy is the teacher who taught him Torah. Woe unto those who haven't learned Torah. This man studied Torah; see how noble his ways are, how good his actions' . . . But when a person studies Bible and Mishnah . . . but is dishonest in business, and does not speak gently with people, what do people say of him? 'Woe unto him who studies Torah. . . . This man studied Torah; look how corrupt are his deeds, how ugly his ways.'" (Babylonian Talmud, Yoma 86a)
When non-Jews with whom you interact know that you are Jewish, you are no longer merely an individual. For better or for worse, you become an ambassador of the Jewish people to the non-Jewish world. When you act nobly and ethically, you bring honor to yourself, the Jewish people, and G-d Himself.
Our new opportunity
Never in the past two thousand years have the opportunities been greater or the stakes so high. For the firs time we live in plural societies in which Jews have the opportunity to participate in all political, ethical and cultural processes as equal members. There has never been a time when Judaic virtues have been more admired by non-Jews. We are admired for our strong community life, the warmth of Jewish family, our passion of education, our commitment to philanthropy. This means we have the chance to be an outstanding voice in the moral conversations of mankind.
A good example of this may be the moving letter Ronald Reagan wrote to the Lubavitcher Rebbe in 1982: "You have so much of which to be proud. Since your first moments in the United States in 1941, you have shared your personal gift of universal understanding to the benefit of all. Time and again, your love and spiritual guidance have brought hope and inspiration to those confronted with despair. In bringing solace and comfort to the human spirit, you have helped to strengthen the foundation of faith which is mankind's most vital asset. Your life's work has been a response to that special calling few are privileged to hear."
Indeed we all have a special calling; at the heart of the covenant at Mount Sinai the Jews were summoned by G-d to become a kingdom of priests and a holy nation.
As Jews we are summand to engage in Tikkun olam, "perfecting the world" under the sovereignty of G-d. We are commended to become "partners with the Holy One, blessed be He, in the work of creations." Hence we each posses the capacity to positively influence all people, elements and events of our world; we can become "a light onto the nations" by saturating our life with holiness and nobility. Through the integrity with which we conduct our business or professional lives, by the grace that we bring to our relationships, by the beauty that radiates from our homes, by the way we use words to heal and not to hurt, every one of us, can sanctify G-d's name in the world.
Matthew Arnold, the great non-Jewish historian and philosopher, once wrote: "As long as the world lasts, all who want to make progress in righteousness will come to Israel for inspiration, as to the people who have had the sense for righteousness most glowing and strongest."
150 dollars that changed a life
In 1978, Rabbi Shlomo Carlebach, the popular Jewish composer and singer, gave a concert in Dubrovnik, Yugoslavia. When the concert was finished, Reb Shlomo came across a young man sobbing. "Holy brother," he asked, "why are you crying your heart out like that?" The man, a non-Jew, told Reb Shlomo that he had just won a scholarship to a medical school in Paris, but didn't have the money for the plane ticket. Just that day, he has been totally unsuccessful in securing a loan. "How much is the plane fare?" Reb Shlomo asked. "A hundred and fifty dollars." Reb Shlomo went through his pockets and pulled out all his cash. He counted out the money and handed it to the man, who was stunned.
"You don't even know me. How do you know I'll ever pay you back?" "It's not a loan," Reb Shlomo answered. "It's a gift." The man was adamant that he didn't want charity, he wanted to pay back the money. Reb Shlomo wrote down his name and address, then added, "Repay me only when you truly can."
Ten years later an envelope postmarked Dubrovnik arrived at the Carlebach Shul in Manhattan, along with a check for $150 and a note: "Because of your great kindness, I am today a successful physician in Dubrovnik, with a thriving practice. I owe everything to you and will never forget you for the rest of my life." (Mandelbaum, Holy Brother, 75-76)
There is an old Jewish saying: When it is very cold, there are two ways of keeping warm. One is to put on a fur coat. The other is to light a fire. Put on a fur coat and keep yourself warm. Light a fire and you share your warmth with others.
As Jews we have been charged to share our warmth with others and light the fire of G-d and compassion throughout the world. This is our calling. This is our destiny.
~~~~~
Rabbi Dov Greenberg is executive director of Chabad House at Stanford University and lectures regularly throughout the United States. He can be contacted at info@chabadstanford.org. For more information visit http://chabad.stanford.edu