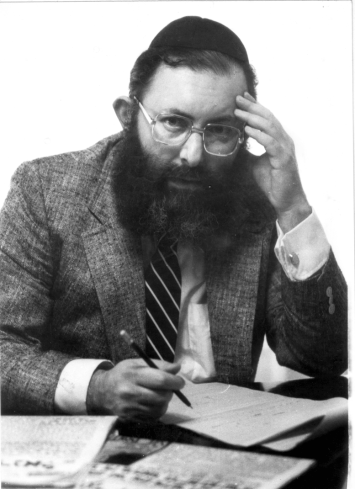 Gershon Jacobson and I were extremely close. And I will say a few words about our relationship. He was not only a colleague and he was not only a friend. He was always a person with such good sense and with such wisdom that when I needed advice, I would turn to him.
I will share two examples: Before going to the Soviet Union for the first time, since Gershon came from there, it was with him that I planned the trip. He told me what to do in every city: how to behave and whom to contact. He gave me names and addresses of Chabadniks who were there clandestinely so that on Sukkos I would have somewhere to bench lulav and esrog.
He even gave me advice which sounded strange at the time, until I heard it from some Secret Service people later on.
He said to me, "Look, the Russians are terrible people," which I imagined they were, "be careful." I said of course I would be careful. He said, "But you don't understand me. Be careful because when you come there alone, they will usually send you beautiful women to try to seduce you."
So I prepared myself to resist, but they never sent anyone to tempt me. It was a waste of good advice but good advice anyway.
The second situation had to do with Pope John Paul II. I was invited for an audience with the Pope. The issues were complex and we went through a series of negotiations about the matter over a period of months. I laid out a series of conditions, which were all accepted, but I had great reservations about accepting the invitation.
The pressure for me to attend was unbearable. Whom do I turn to? I called Gershon. What should I do?
I told him, "I'm afraid that if I don't go, I could hurt our people. I just refused an invitation from the Pope, who after all, accepted all my conditions."
And we sat together and we spoke a lot. He said, "Look, your instinct is not to go, so don't go." And so I didn't.
So you see, I came to Gershon for advice on all the secret things that I have done. He was my accomplice. And what a good one!
I could tell you many stories about Gershon. The way we covered stories. The way he covered for instance Yosseleh Schuchmacher. We spent weeks looking for him. He was a genuine journalist, a man who professed a universal understanding of the world at large.
Before going to see the Rebbe of Lubavitch z"l for the first time, again, with whom did I discuss it? With Gershon. And then I became close to the Rebbe, zichrona livracha myself.
Now Gershon left us two yerushahs, two inheritances. The first yerushah is his children. It's true, Sylvia, your children are so special. They make you proud but they make us proud as well. To bring up five children today in such a crazy, bitter and cynical world, not only as good Jews but as young leaders of the Jewish people, is to us a great comfort.
The other inheritance is the Algemeiner Journal, which is very important. This shloshim-memorial is an important event, and I think we should use it to keep the Algemeiner Journal going. The Journal must continue because that was his hope. The Yiddish language is losing ground, and it will be maintained by our religious communities.
I remember seeing the Yiddish writers when I worked at the Jewish Daily Forward; some of them famous. And I remember that when I came to their homes, they spoke in English to their children. And these were Yiddish writers. It's incredible. Even the editors of the Jewish Daily Forward spoke English with their children, even when they were among themselves, when no one else was around.
Where do people speak Yiddish? In religious Jewish homes in Brooklyn and in Bnei Brak, and Jerusalem. The Algemeiner will ensure that Yiddish does not perish among all of the Jewish people.
Why is Yiddish so special? My late teacher and friend, the great Rabbi Shaul Liberman used to tell me why he reads the Algemeiner Journal. "Not only because of the articles," he told me, "but because of the pictures." He liked to see Jews with beards in the newspapers, he said. Even though he was a misnagid she'be'misnagid, he really loved it.
Loshan Kodesh, the holy language of the Bible, is so special because there are no obscene words in Loshan Kodesh. That's why it's kodesh. Not so for Modern Hebrew. In Yiddish there is some obscenity, but you could never find a trace of it in the Algemeiner Journal. It's the purity of the language that really appealed to me. There was never a curse. Never anything ugly in Gershon's newspaper.
And so today, when we speak of Gershon and his legacy, what he has done, what do we do? We must decide to continue the Algemeiner Journal.
There was a time that I used to write for it. I had a rule with him. Whenever he would call, I would write an article. And when he didn't call I was happy because I didn't have to write an article!
Well, I have the feeling he is calling. He calls through his children and through all of us. We must continue the newspaper.
I think of Gershon with great melancholy. I have the feeling that he and I did not speak enough, and yet we had spoken a lot... I have the feeling we have to do something we have not done, something that has remained unaccomplished, unfinished.
And this is usually the case whenever there is a leviah and a shloshim.
But this time it's more than that. This time it's very personal.
I think he and I had something to say together. We had begun many times. We haven't finished. So maybe you, Simon, and your brothers and sisters, will finish it.
Thank you.
(From a talk delivered on Tuesday, June 28, 2005 in the Park East Synagogue at the shloshim-memorial gathring in honor of Gershon Jacobson.)
~~~~~~~~