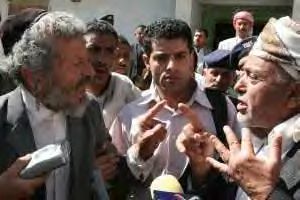 A Muslim man who shot dead a Jewish teacher in broad daylight was ordered to pay the victim's family US$27,500 in blood money, but escaped the death sentence after the judge ruled he was mentally ill, (as was repord here on VIN News), a verdict the family's lawyer called a "scandal".
"This is a scandal. It shows that we were right when we demanded the transfer of the trial to Sana'a where the judge could have been in a safer position, away from the intimidation of the family of the convict. It is a verdict from a frightened judge," said Khalid al Anisi, who represented the family of Moshe Yaish al Nahari.
The prosecution had demanded the death sentence for Abdulaziz Hamud al Abdi, a 39-year-old former military pilot, who has confessed to killing al Nahari, a Jewish teacher of Hebrew and father of nine, last December following a warning that Jews should convert to Islam or leave the area.
But the judge, Abdulbari Okbah, ruled that the blood money would suffice as al Abdi was "mentally abnormal" and would be kept in a psychiatric hospital until he was stable.
The more than two-month long trial was held amid tight security at the court in Amran, a tribal dominated area about 60km north of the capital Sana'a, in fear of a backlash among al Abdi's family and tribesmen.
Mr al Anisi, who represented the family for free, said they would appeal the verdict.
"The court verdict made the blood of the Yemeni Jews very cheap. My clients will complain to the president [of Yemen]. His father will cut off his whiskers in protest if he does not get justice," said Mr al Anisi.
The small courtroom was packed with dozens of people supporting al Abdi and his family, who greeted the verdict with "long live justice". No one attended from the Jewish community except the father and widow of the victim.
"This is a fair verdict as it has been proven that Abdulaziz suffers from psychological problems. He previously killed his wife and her family forgave him when they realised his mental disorder," Ahmed al Aqari, a member of parliament from Amran, said while arguing with the victim's father about the verdict outside the courtroom.
However, al Nahari's blind father, Yaish al Nahari, and his widow, rejected the ruling.
"This is unfair; this is disappointing. What should I do with money? I do not want even the wealth of the world for my sole son and provider. We have been demanding the judgment of God to be fulfilled. We need a death sentence. May God take revenge for us for I have nothing to support me but my son," said Yaish al Nahari, with tears in his eyes.
Al Nahari's widow rejected the notion that the gunman was crazy. Her husband had been in the company of tribesmen when he was shot, she said, and a mad person would surely have hit one of the others in the crowd as well.
"I believe the verdict will make the Jews feel unstable and insecure; it will increase their fear and push them to leave Yemen," said Mr al Anisi, the lawyer.
Yaish Ben Yahia, a rabbi in Ryadah district in Amran, expressed concern the verdict might encourage further killings of Yemeni Jews.
"The blood money is a sort of compliment to the victim's family. This is not justice and I do not dismiss that the judge has been under pressure. I am afraid it might encourage the further killing of Yemeni Jews."
Last month, a Jewish Yemeni family was taken to Israel in a secret airlift organised by the quasi-governmental Jewish Agency for Israel.
Said bin Yisrael and his eight children and wife left Yemen for Israel following hand grenade attacks on their house and death threats.
After al Nahari's murder, Ali Abdullah Saleh, Yemen's president, discussed with Jewish community leaders a plan to relocate Jews from Amran to Sana'a, where each Jewish family would receive a plot of land.
The Jewish community, however, said the government has taken no action.
Sixty five Jews living in the northern governorate of Sa'ada were forced by supporters of al Houthi rebels to leave the area in 2007. The remaining Jewish community in Sa'ada was then moved to Sana'a after they were told to convert to Islam or leave.
As recently as the early 1950s Yemen was home to about 50,000 Jews, but most migrated to Israel. Fewer than 500 remain.
vosizneias.com