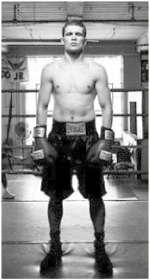 About a year ago I met a fascinating, unique and inspiring young man.
His name is Yuri Foreman and he is an Orthodox Jew who is studying to become a Rabbi at the Iyyun Institute of downtown Brooklyn. Oh, and he is also an undefeated junior middleweight boxer with 28 fights under his belt.
Yuri is originally from Gomel, Belarus where he grew up in abject poverty far removed from Judaism, sometimes selling goods on the black market to earn a living and following some unpleasant incidents his mother took him to learn boxing so that he could protect himself from bullies at school.
After the fall of the Iron Curtain, Yuri moved with his family to Israel seeking a new and better life, as boxing is hardly a popular sport in Israel (not encouraged by most Jewish mothers) he found it difficult to pursue his passion and dream, but he soon found a way, and in Yuri's words: "I went to the Arab gym. The first time I walked in, I saw the stares. In their eyes, there was a lot of hatred. But I needed to box; and boy, did they all want to box me."
After winning virtually every amateur championship in Israel, at the age of 19 Yuri moved to New York in an effort to take his boxing to the next level, initially working as a laborer to pay the rent. He trained hard and progressed rapidly. Shortly after arrival in New York Yuri began to feel the calling for deeper meaning in his life and went on to study and practice Orthodox Judaism, and now he describes it as his "pillar of strength" that is his inspiration in whatever he does.
On Monday of this week a purse bid was closed on Yuri's next fight for the WBA junior middleweight crown against Daniel Santos. This will make him the first and only Israeli yet to fight in a championship bout and the first Jew in quite a while.
Yuri's story is special because it smashes stereotypes and it blasts away some common misconceptions.
There are many Jews that are of the opinion that Orthodox Judaism conflicts with contemporary perceptions of success and that to live a committed Jewish life is to cut off ones wings in exchange for reserved seating in heaven.
But in truth, living a lifestyle that combines the past and the present, taking our rich history and vibrant soul and applying it to daily living connects us with something bigger than ourselves and should only act as an ongoing source of inspiration in maximizing our unique individual gifts and talents.
Fusing the physical and the spiritual and striving to strengthen one with the other is a basic principle of Jewish philosophy, uplifting the physical world by engaging our surroundings and utilizing it all in the effort to make this world a better place.

As we tackle the challenges of day to day living and thriving, in one way or another we are all fighters, whether conquering an industry or hustling to scrape together a living.
Sometimes our challenges are physical and sometimes psychological namely our inhibitions and fears. Often life's greatest battles are fought within.
Yuri Foreman has shown many the value of balance that leading a life of committed values can bring the inner strength fostered by a relationship with a higher power that inspires unprecedented success.
So when life throws you a straight left to the Jaw, who is in your corner?

The Author is the director of the Algemeiner Journal and the GJCF and
can be e-mailed at
defune@gjcf.com