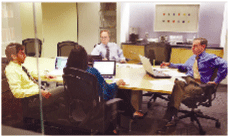 In July, President Obama met for 45 minutes with leaders of American Jewish organizations. In attendance were 16 Jewish leaders from 14 organizations all fixtures in U.S. Jewish communal life, established and representing large constituencies of patriotic American Jews.
All that is except one, an organization barely a year old invited despite the objection of others present at the behest of the President. The organization; J-Street, claims to be "the political arm of the pro-Israel, pro-peace movement" and has grown rapidly since its inception.
Last Sunday the New York Times magazine published a lengthy article about J-Street on which Lenny Ben- David of the Jerusalem Post quite rightly commented that it "is missing so many components and questions about the "pro-Israel" organization that it cannot be viewed as anything other than J Street puffery"
What concerns me though is how J-Street can actually be viewed as a "pro-Israel" organization, when in fact nothing could be further from the truth!
J-Street director Jeremy Ben-Ami is quoted in the article saying "Our No. 1 agenda item is to do whatever we can in Congress to act as the president's blocking back."
However the number of Israelis who see US President Barack Obama's policies as pro-Israel now stands at four percent, according to a Smith Research poll taken on behalf of The Jerusalem Post. The Ironic thing about this survey is that the margin of error is 4.5% which means that it is possible that exactly 0% of Israeli Jews believe Obama is Pro- Israel.
Does this group of Jews have the bloated arrogance to stand up and say that we know better than almost every Israeli, better than the government of Israel better than those that have lived, breathed and died for the Jewish homeland? If so, I hope it is the arrogance of ignorance, but it could just as well be twisted malice.
J-Street's supporters include Lebanese-American businessman Richard Abdoo, a current board member of Amideast and a former board member of the Arab American Institute (AAI), and Genevieve Lynch, who is also a member of the National Iranian American Council (NIAC) board.
When Congress was considering anti-Iranian legislation a year ago, J Street went into action. In the words of one anti-Israel blogger at the time, "J Street played a key role in dealing that astonishing defeat to AIPAC in Congress - in which a coalition of peace groups and religious groups spearheaded by the National Iranian American Council lobbied effectively against a belligerent resolution."
Yes, J-Street's claim to be Pro-Israel is like one claiming to be a Pro-Civil rights slave trader.
In fact, not only are they not pro-Israel but they actively fight against what Israel has decided is in its best interests. In truth J-Street is simply an Anti- Israel "Pro-Peace" lobby run by Jews.
J-Street are acting as Obama's willing pawns in driving a wedge between American and Israeli Jews in order to further the administration's engagement agenda at Israel's expense. They can rightly call themselves Probama, maybe Pro- Peace but to call themselves Pro-Israel is just guile deceit.
I hope that the pro-Israel community can see through the falsehoods, consistent inconsistencies and multitude of contradictory declarations, and see J-Street for who they really are.
The Author is the director of the Algemeiner and the GJCF and can be e-mailed at defune@gjcf.com