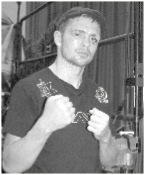 To witness the making of history in one's lifetime is a rare occurrence but last Saturday night at the MGM grand arena in Las Vegas I watched rabbinical student Yuri "Lion of Zion" Foreman become the first Israeli world boxing champion of all time and the first Jew since 1978.
Yuri executed a decisive and compelling victory against his Puerto Rican rival Daniel Santos, and in the words of Jewish HBO boxing commentator Larry Merchant "he gave the best performance of his career when it mattered most." Winning by unanimous decision, he knocked Santos down with power punches in three separate rounds, and outclassed his opponent with superior speed and movement.
The Jewish pride that Foreman has brought to an otherwise highly secular and assimilated world is remarkable. As we exited the arena with Yuri we were mobbed by fans that stopped to take photos and wish us mazal tov; it was like a big bar mitzvah! The host of the event, world's biggest boxing promoter Bob Arum was elated and he beaming with Jewish pride as he ran around the ring, speaking proudly of his Jewish heritage and saying how it has always been a dream of his to promote a Jewish champion.
Yuri addressed the press conference with his tzitzis swinging, thanking G-d first and foremost for the victory, mentioning halacha and talmud along the way he quoted the dictum that says " a person can hope for a miracle but can't rely on one" he then quipped "I didn't rely on any miracle for this fight."
Witnessing Yuri's genuine humility in searching for G-dly purpose in his talents is a great inspiration to many, and with his new status as world champion his influence and reach grows rapidly. Following the fight, there were stories in many of the world's major news outlets including AP, Reuters, NY Times, Los Angeles Times, USA today, NY Daily News and the Jerusalem Post.
For so many unaffiliated Jews that have never had a positive exposure to observant Judaism it is the success of Jews like Yuri that sit at the bridge of two worlds that can re-generate their Jewish pride and encourage them to re-discover their roots.
Yes, boxing can be a tough sport and to win at the top level is great achievement, but the greatest accomplishment is that Yuri has brought back Jewish pride to so many. I have no doubt that he will continue to impact and influence those around him to positively embrace their Judaism with dignity and pride, and utilize their gifts to inspire and influence others for the better.
The Author is the director of the Algemeiner and the GJCF and can be e-mailed at defune@gjcf.com