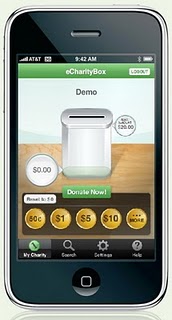 A new unique eCharityBox solution has been launched as a new tool to assist not for profits to collect donations. The company provides a fun to use tool for the full range of multimedia technologies available on the Web, desktop, Social Media and mobile devices.
eCharityBox takes charitable giving into "Tzedakah 2.0" and just might put an end to the old-school methods employed by non-profits to remind their donor base to contribute.
Consider that you could automatically add eighteen cents each evening to your kitchen charity box without having to think about it on a daily basis? Or, you pass your cell phone to your child and ask them to drop some change in a virtual piggy bank to benefit the charity of their choice.

When the virtual box is "full", a credit card on file is charged and an automated tax receipt is sent.
In a recent interview with Getzy Fellig, co-founder and CEO of eCharityBox he explained that the technology "introduces a method for micro-giving. Today, a lot of younger people are affected by tough economic times and the job market's not what it used to be and they can't open their wallets like they did in the past."

This app, soon available on the iPhone, may be a game changer in the world of digital philanthropy. "Organizations can't afford not to have a presence on people's cell phones. You never know when the moment of inspiration will arise," said Fellig.