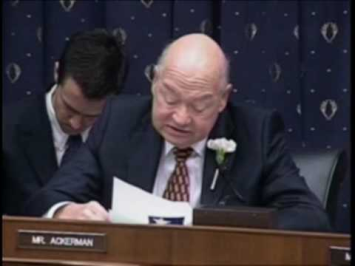 The Algemeiner has learned that Rep. Gary Ackerman of the 5th Congressional District of New York is being backed by JStreet, an advocacy group that claims to be pro-Israel, yet consistently campaigns against Israeli government positions.
At a fundraiser that was held recently benefitting JStreet PAC, Rep. Ackerman was be introduced by the controversial Executive Director of JStreet Jeremy Ben-Ami along with Representatives Dan Maffei (D-NY25) and Chellie Pingree (D-ME1) who each support the organization.
Whilst Ackerman prides himself in representing Jews and Israel well in Congress, many are now claiming that this is not the case, saying that Representative Ackerman has become a rubber stamp to President Obama whose allegiance to Israel has been placed in doubt over various incidents that have taken place throughout the year.
Additionally critics have expressed anger over Ackerman's support for Justice Richard Goldstone of the Goldstone commission that harshly criticized Israel for its recent defensive war in Gaza and his refusal to support the America Stands with Israel Act.