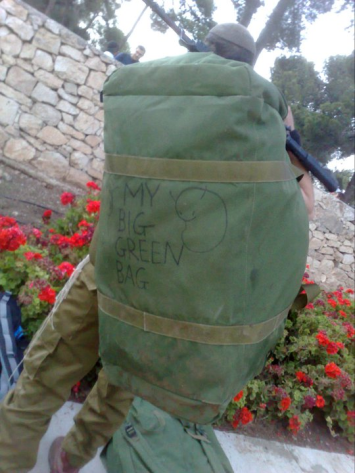 'Tis just another Sunday morning.
While the rest of the world sleeps late, soldiers all over Israel are getting into uniform, ready to go back to their 'planet base.'

It's amusing how as a soldier you have to be so conscious about your appearance. Everything's gotta be perfect and you have to keep reminding yourself, making sure you have everything you need.

'Past couple o' weeks have actually been quite eventful, starting with a day of gathering for the kvir trainees (kvir is a section of the infantry mobilized in the West Bank area).
The day started with a tour of the Ir David (City of David), taking over a nearby park for lunch afterwords, then hours of speeches in the Great Synagogue in Jerusalem by many important people, including the chief Rabbi of the IDF. We then set out to the Kotel for Selichot.

'The way there our machlaka was super-psyched. We sang Jewish and patriotic songs at the
top of our lungs. Happened to be, our machlaka was first at the Kotel and we showed the people there the true energy and
enthusiasm that the soldiers have; singing and dancing 'til early morning at the Kotel square, surrounded
by many supportive onlookers. 'Was a memorable night indeed.

We got back to base at five AM that night. Only a light run shower and some prayers later did we get the beauty sleep.

The week followed on with more intense shooting exercises and mastering the three shooting stances; lying, kneeling and standing, and more of the same stuff really. We were trained to run from point A to B with our group and finish in the "shlashot", a very commonly used formation.
It's after a day of hectic training, crawling on rocks and shooting in the blazing heat with all my gear on, walking back to our barracks all covered in sweat, dirt and dust, just hoping for a good shower, or at the very least a drink, when you arrive to find out the water isn't working.

After such a disappointing turn of events, it was rather pleasing to find out the next day that all the "chayal bodeds," the lone soldiers, in my unit have a two day trip. So that was pretty cool.

Now back to planet base, after a little relaxation time, we get our advanced training in "shmira", security, with either a two
hour shift standing in a tower or at a gate, during which time you can not do anything except guard. No phones. No music. Nothing. You can also have standby guard duty, in which case you must be the first ready in case of an incident where you may have to replace the current guard. If you are doing that at night, you must be prepared to sleep with your boots on.

To top it all off, the two days before Rosh Hashona, my machlaka headed to the field, living with no showers, no accessible toilets and crummy canned food for some slightly more intense training exercises.
I, however, got those days off, being as I now have a boring ol' Ulpan course back on base.
But I ain't worried.

'Cause I hear we'll be going out to the fields plenty more times.

Lone Soldier

The Lone Soldier column is a weekly diary of a new recruit to the Israel Defense Forces following his time in service and beyond.