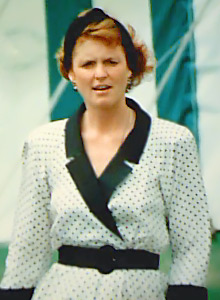 As an Englishman living in New York, I've become rather ambivalent towards the Royal Family over the years. The latest scandal rocking Buckingham Palace hasn't changed my attitude.
The Duchess of York, Sarah Ferguson (a.k.a "Fergie") was just caught in a mortifying tabloid trap. Fergie met with a reporter posing as a businessman who said he was willing to pay handsomely for precious access to her ex-husband, Prince Andrew (who happens to be the fourth in line for the throne).
Alas, evidence captured on hidden video reveals that the Duchess was more than willing to cooperate -- if she was paid $40,000 up front, in cash, and £500,000 more later.
To us "commoners," the situation is baffling. Hasn't the high profile Duchess made millions of dollars as a Weight Watchers spokesperson and popular children's author, to name just one of her business ventures?
Stranger still, we've learned that, while Prince Andrew is a member of one of the world's richest families, Fergie's divorce settlement reportedly nets her only $21,000 a year.
The Duchess's public life hasn't been entirely free of public stumbles. The British media is particularly keen to mock her unpaid debts, her latest charity fads, and her every attempt to forge yet another "career."
Less attention is paid to the efforts made by the Duke and Duchess to create a somewhat "normal" upbringing (in aristocratic terms, at least) for their two children. After a fire destroyed Fergies's manor home in 2008, she and the children moved into the Royal Lodge with her ex-prince. (Andrew has reportedly assured Fergie that he has no intention of kicking her out, post-scandal.)
The Duchess may still have a roof over her head, but her attempt to make a quick buck may have cost her even more than she'd hoped to "earn." She'd landed recently landed a £300,000 deal for three television documentaries, but now "a TV source" told the media that, "She's an embarrassment and has been axed. It's not clear whether she'll be able to work again." No doubt the fallout from Fergie's lapse in judgment will continue to grow.
The Duchess has thrown away more than most people ever get, and now she has behaved foolishly once again. However, some blame must also lie with the devious undercover tabloid reporter who conducted a sting operation on a woman with notoriously poor judgment who is thought to be drowning in debt.
The Torah states (Leviticus 19:14): "You shall not curse the deaf nor place a stumbling block before the blind; you shall fear your God -- I am your Lord."
Now, the word "blind" can be seen a metaphor, representing someone who is ignorant, foolish or, shall we say, "morally blind." Thus we are admonished not to take advantage of such people, no matter how tempting it may be. We sometimes assure ourselves that we are merely "teaching the other person a lesson" when we do so, but isn't that just a rationalization we use because we want to look superior?

On this verse in Leviticus, Nemaha Leibowitz the renowned Bible teacher once noted that:

"The Torah teaches us that even by sitting at home doing nothing, by complete passivity and divorcement from society, one cannot shake off responsibility for what is transpiring in the world at large… By not protesting… danger spots, you have become responsible for any harm arising therefrom, and have violated the prohibition: 'Thou shalt not put a stumbling block before the blind…'"
So we cannot shrug off mean-spirited attacks on anyone, no matter their position in society. Placing temptation in the path of a weak person is wrong, no matter the excuse or the target. Sadly, our tabloid culture has played a part in breaking our moral compass.
In the wake of the scandal, Fergie stoically appeared at BookExpo in New York, to promote her new series.

Her forthcoming "Helping Hand Books" are intended to "help children understand personal and social issues that affect them growing up, including starting school, coping with bullying and learning about strangers."
Clearly, Fergie herself needs to learn a few lessons about avoiding "strangers." My advice to her is to take some time for introspection and rejuvenation. Now that would be a story worth reading about.
Simcha Weinstein is an internationally known, best-selling author. His first book Up, Up and Oy Vey!, received the Benjamin Franklin Award. He has appeared on CNN Showbiz Tonight and NPR, and has been profiled in leading publications, including The New York Times, The Miami Herald and The London Guardian. He is a regular contributor to The Jerusalem Post and The Jewish Telegraphic Agency (JTA), and other publications. He chairs the Religious Affairs Committee at the renowned New York art school, Pratt Institute. His latest book Shtick Shift: Jewish Humor in the 21st century is out now.