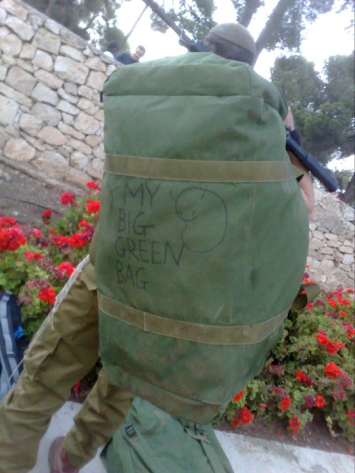 Ok, here's the deal.
'Just joined the Nachal Hareidi Brigade, 97th Battalion, a week ago.
Here's how it went the morning of the bakoom, which is the first day of service when you are given injections, health checkups, your off base uniform and a whole bunch of clothes and other stuff. I remember this feeling I had on the bus to bakoom while sitting amongst my fellow recruits, that although they were total strangers to me I knew I loved these guys. And I knew it's because we're all giving up our own little personal lives for a much greater cause.
In other words, we could be giving up our lives for the safety of the people of Israel. That's when I got the Goosebumps. It was a feeling of selfless love for my fellow recruits, and the people of Israel. In my head, I imagine that this selfless love is what makes the Israeli soldiers great. It's that selfless love for one another and the land of Israel that drives them.
And then it hit me.
I'm a soldier now. That means you do exactly what you're told. Your own little personal life doesn't matter so much as your mind becomes preoccupied with bigger, more important things.
'Was great to return back to everyone later that evening with uniform and gear.
Sunday we left to base.
Surprisingly, though unlike the rest of Israel, the army is extremely well organized. We were promptly assigned to our machlakas (divisions) and kitas (units).
Our schedule the first week went something like this. It runs from five AM 'til 'bout ten o'clock PM. Everything the mifaked (commander) tells us to do is timed.
The work wasn't too hard and mainly consisted of learning loads of rules and regulations, much exercise, keeping to times, cleaning (like, everything), lots of lessons, gardening, scrubbing y'know, just getting us used to working hard in the blazing heat. I must've sweated barrels.
Food on base is great, but we must always remember while eating that toilet-going must be timed too. Everything has to be timed and fit in perfectly all the time. A little hard for me, as I don't speak a good Hebrew yet, but soon I'll get it. Meantime, I just follow exactly what the rest of my Kita does.
On the way back from base early Friday morning, 'just felt incredible, but mainly tired as hell.
Everything you're used to taking for granted you start to appreciate.
It makes you act proactively. And feel very alive.
Lookin' forward to next week.
The Lone Soldier
The Lone Soldier column is a weekly diary of a new recruit to the Israel Defense Forces following his time in service and beyond. email lonesoldier@algemeiner.com